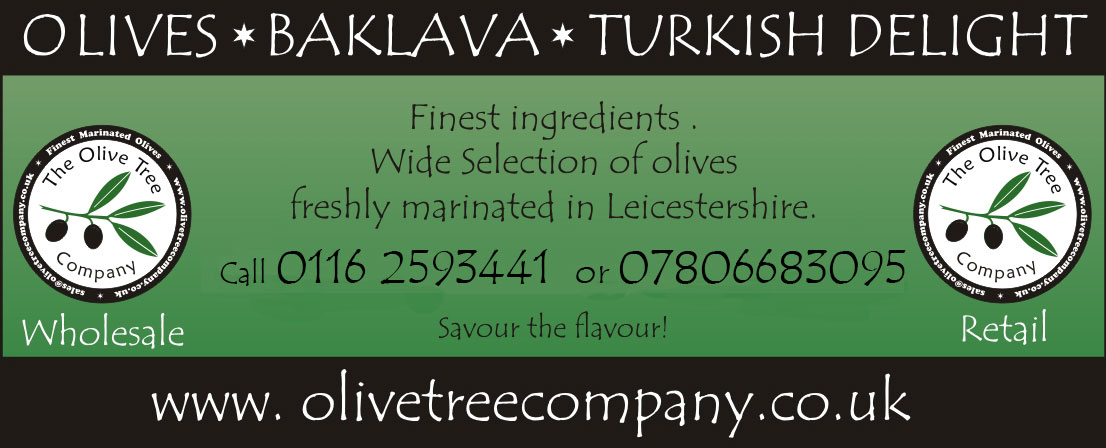 The Olive tree Company.... Has now a Deli & Farm Shop @ Wistow
Wholesale & Retail
Wide selection of olives freshly marinated in Extra Virgin olive oil ...
Queen olives, kalamata, stuffed olives, choice of flavours; garlic, chilli flakes,
basil, oregano, pesto or plain

Stuffed vine leaves

Sun-dried tomatoes with Italian cheese

Grilled artichokes, grilled peppers, grilled aubergines.

Turkish delight Rose or Walnut

Baklava, Fudge
The Olive Tree Company is a new exciting company changing the way consumers think about olives. Sefer Ustabas-Director of the Olive Tree Company ( based in Leicestershire, England ) thought about taking the Turkish Black olive to the "door steps" of the English consumer-sourcing and marinating the best Turkish black olives using only the finest ingredients.
The most important part of the journey for Sefer was sourcing the right olive-he found the olives which still had their stone left in absorbed the flavour more than those that are pitted, the concept behind this idea is that they are freshly marinated in simple fine ingredients ready to be served with cheese and wine. What more could you wish for!!
Sefer was born in Turkey where the mediterrean diet is well known to be very healthy. Food is their "lifestyle" and it focuses around families getting together around the table and chatting & eating balanced non-processed simple foods but with fine ingredients.
In England we are always in a hurry!
Take time to slow down and savour the flavours of our olives.
Questions normally asked:
What are the nutritional values of olives?
A good source of Iron, vitamin E, fibre and monosaturated fats that help prevent heart disease.
What is the difference between Extra virgin olive oil and other olive oils?
Nearly all of the worlds olive oil- most of its finest- comes from the mediterranean region, which has a 6,000 year history of olive tree cultivation.
Extra virgin olive oil is highly regaded as it offers the widest variety of flavours and aromas, with a "fruity" flavour. It is obtained exclusively by the pressing and centrifugation of crushed olives and is produced in limited quantities making it more expensive than other types.
Why are some olives black and some are green?
They are from the same olive tree (olea europaea) "olea" latin word for oil, apart from their taste and colour. The only difference is their ripeness- green are picked when they are immature and black olives are fully ripened on the tree.
Why are they marinated in Extra Virgin Olive oil?
Olives cannot be eaten straight from the tree, they would be too bitter. They have to go through a special process . Olive Tree Company olives taste slightly salty because we have no chemical preservatives. Most olives are in brine this is to improve not the taste but the shelf life. Extra virgin olive oil was chosen to improve taste and nutritional benefits.
Our olives will keep freshest if stored in air- tight container in the refridgerator for 10days.
Serve at room temperature to enjoy the experience of taste!!
Registered office; Olive Tree House, 11 Orchard Street,Fleckney , LEICESTERSHIRE, England.